Academic Bridging Program
The Millie Rotman Shime Academic Bridging Program offers an opportunity for those who do not meet the academic requirements for admission to the University of Toronto to qualify for an Honours Bachelor of Arts or Honours Bachelor of Science degree program in the Faculty of Arts & Science.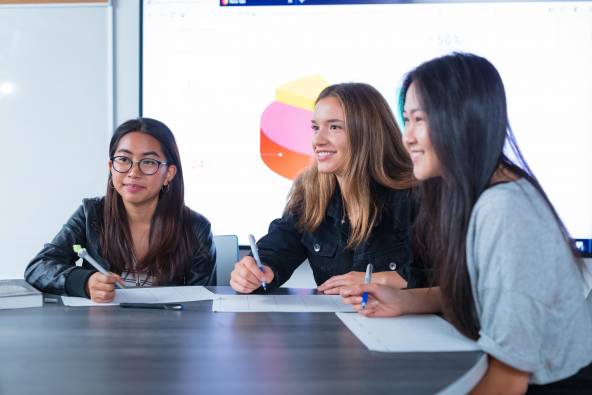 What is it?
The Academic Bridging Program bridges the gap between your prior education and the requirements of first-year university courses. When you successfully complete the Academic Bridging Program, you gain admission to the Faculty of Arts & Science at the University of Toronto with credit(s) toward your degree. If you have been away from high school and/or college studies for at least two years, you may be eligible for admission to our program!
What are the benefits of the program?
Access to Honours Bachelor of Arts or Honours Bachelor of Science degree admission.
Academic preparation that covers university-level reading, writing, research and final assignments.
Financial aid that typically covers the cost of all educational expenses for the program.
A wide range of academic learning supports, including academic advising, learning strategists and study skills seminars.
Opportunities to access student services and engage in student life activities within the University of Toronto community.

How will the COVID-19 pandemic affect the Academic Bridging Program?
Planning is underway across the University for Fall 2021. 
The University is planning for our three campuses to return to in-person learning this September. However, as Ontario's response to the COVID-19 pandemic continues to evolve, changes will likely occur and we will continue to update you as quickly as possible on the impact of government and public health measures.
In these circumstances, please be advised that the manner of delivery of courses, co-curricular opportunities, programs and services is subject to change, in accordance with university policies. The University thanks its students, faculty, and staff for their flexibility during these challenging times as we work together to maintain the standards of excellence that are the hallmark of the University.
For now, all applicants to the program should note the recommended technology requirements for students to access remote/online learning, should that be a component of our program's delivery in the upcoming academic session.
The Academic Bridging Program is named in honour of Millie Rotman Shime, a University of Toronto graduate and Toronto secondary school teacher of history and English, whose life exemplified the best that any great university may expect of its alumni. Her father, the late Manny Rotman, who received his bachelor's degree from Woodsworth College in 1985 at age 76, wished to commemorate Millie's memory by helping others who shared her passion for learning. Beginning as the Pre-University Program for mature students in 1967, it was updated and renamed the Academic Bridging Program in 2000 with the generous support of the Rotman family. 
I highly recommend the Academic Bridging Program. If you have a dream of achieving a post-secondary degree, it is an excellent pathway into the best institution in Canada. It prepares you for success post-bridging by providing a community and integrating you into existing supports. 

Brad Dalgleish, Honours Bachelor of Science (2021) & former Academic Bridging Program student.