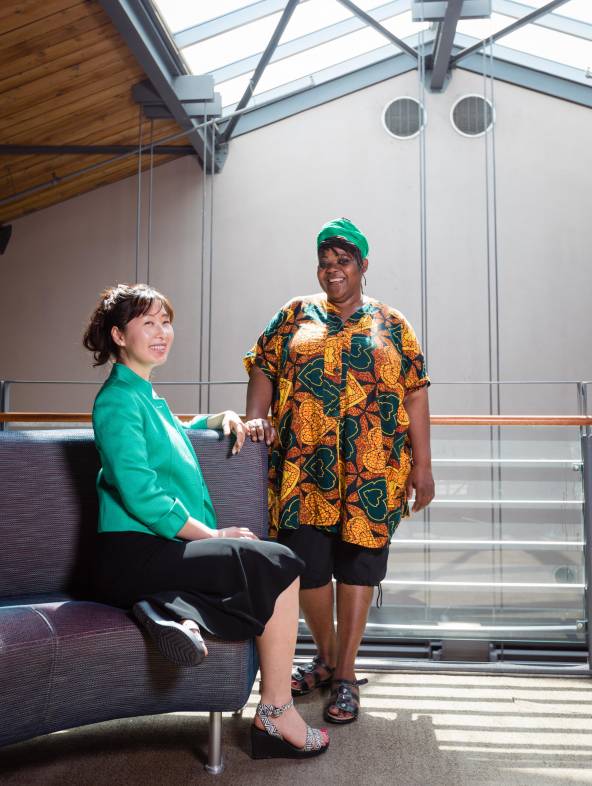 Welcome to Woodsworth:
A warm and inviting learning environment located at the gateway to the University of Toronto at the corner of St. George and Bloor streets.
At Woodsworth College you'll be part of a thriving community of more than 5,000 students. We celebrate excellence in a collegial setting, and we are committed to promoting accessibility and equity while providing a rewarding educational experience for a diverse student body.
Our buildings feature a blend of Victorian and modern architecture with two courtyards, a café, study and meeting space and extensive computing facilities. The Woodsworth College Residence boasts suite-style apartments with private bedrooms, shared modern kitchen and bathrooms. 
Enjoy a rich variety of student life activities at Woodsworth that will help you make the most of your time at university including peer mentorship and the First Year Experience Program. 
We take pride in the exceptional academic support services we offer such academic and financial advising, learning strategists and the Academic Writing Centre. 
Meet some of our students
Nicholas
Class of 2022. Major: History. Double minor: Environmental Biology; Geoscience.
"The best thing about Woodsworth College is the feeling of community and the resources available. I am proud to be part of such a welcoming, inclusive, and friendly community of people from so many diverse backgrounds and experiences."
Ting
(Pictured at left.) Class of 2020. Rotman Commerce. Specialist: Accounting. Minor: Economics.
"Woodsworth is a great place to meet new friends, expand your horizons and get great support whenever you need. Being involved at Woodsworth helped me make friends from different cultures, disciplines and even age groups."
Vishar
Class of 2022. Double Major: Health Studies; Sociology. Minor: Psychology.
"The best Woodsworth event for me was Frosh! It was where I met my best friends and it was the week where I got to experience what the Woodsworth community was like. Everyone marching on the streets together representing our college is a moment I will never forget."
Do you know about our programs?