First-Year Foundation Seminars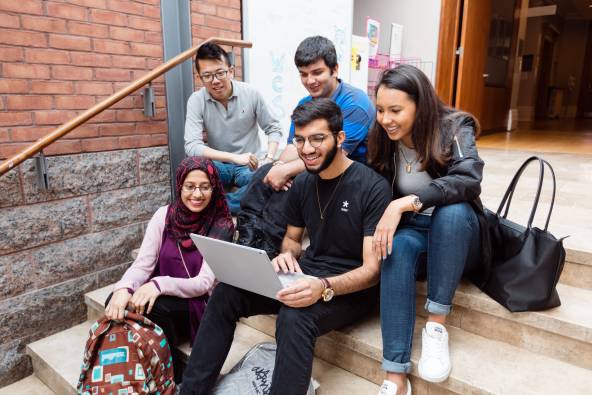 Woodsworth College's First-Year Foundation Seminars are open only to newly-admitted, Faculty of Arts & Science students (3.5 credits or less). They are half-credit courses that focus on discussion of issues, questions and controversies surrounding a particular discipline (or several disciplines), taught in a small-group setting that encourages participation and engagement with faculty and fellow students.  FYF seminars are as rigorous and demanding as any other first-year course, but with a special focus on preparing students for success by developing their critical thinking, research, writing, and oral presentation skills.  With a maximum enrolment of 30 students each, they are an ideal way to have an enjoyable and challenging small-class experience in your first year.
First-Year Foundation Seminars:
Count as 1.0 or 0.5 of the 20 credits required for an Hon. B.A., Hon B.Sc. or B. Com.
First-Year Foundation Seminars are not required to get into any Program of Study. However, they may count towards your Program. Please check with your college registrar for further details.
Can be counted towards the breadth requirement.  
For current course offerings please check the timetable.  
WDW197H1 Jane Austen on Film (24S)
In the 21st century, Jane Austen's early 19th-century novels of love and marriage are increasingly experienced through retellings and updatings in theatrical and made-for-television movies. The course will examine highlights from the last 25 years of Austen adaptations for what they can tell us about relationships in our time, including how Austen's stories are rewritten to please a modern audience. Films in the course will include works from 1995 to 2016 (from 1995, Clueless, Austen's Emma retold as a Hollywood high school comedy and starring Alicia Silverstone; and Sense and Sensibility, for which Emma Thompson's screenplay won an Academy Award; and from 2016, the Hallmark Channel's Unleashing Mr. Darcy, Austen's Pride and Prejudice transferred to the present-day dog show circuit; and writer/director Whit Stillman's Love and Friendship, the first-ever film version of Austen's Lady Susan).
Breadth categories:1 Creative and Cultural Representations
 
WDW198H1 There and Back Again: Exploring Tolkien (24S)
Since the mid-twentieth century, J.R.R. Tolkien's The Hobbit and The Lord of the Rings have become classics of children's and fantasy literature. In this course, we read Tolkien's The Lord of the Rings and investigate the worldbuilding and imagined history that lies behind the books. We trace how Tolkien's own life experience informed his work—his experience as a soldier of the Great War and a civilian during World War Two; as a scholar of medieval language and literature, and of fairy tales; as a Catholic thinker; and as a lover of nature and the past. We also survey the afterlife of the novels in fantasy, film, and the popular imagination.
Breadth Requirements: Creative and Cultural Representations (1)
WDW199H1 Indigenous Knowledge and Storytelling in Toronto (24S, 12T)
The land now known as Toronto has a 13,000+ year old history of Indigenous presence that is still unfolding. This history is inscribed in the land – it is visible in the geographical features, place names, and contemporary urban form of the city and is represented through stories (oral and written) told by diverse members of Toronto's Indigenous community. This course engages with stories of Indigenous history and presence in Toronto through a selection of Indigenous literary works about Toronto, Indigenous guest speakers, and a series of experiential Indigenous storytelling tours of significant locations across the city. Students will be introduced to Indigenous worldviews and ways of knowing and will learn why storytelling remains a significant and culturally-appropriate means for keeping and sharing land-based Indigenous Knowledge. Students will gain a deeper appreciation of the city as a traditional Indigenous territory and will reflect on their own relationships and responsibilities within these lands.
Breadth Requirements: Creative and Cultural Representations (1)