Our Commitment
We are committed to providing you with a safe, diverse, vibrant and co-operative community that is conducive to both your academic success and personal growth. We are dedicated to promoting a living-learning environment that is both challenging and supportive, while cultivating a community of scholars that is inclusive, globally-minded and service-oriented.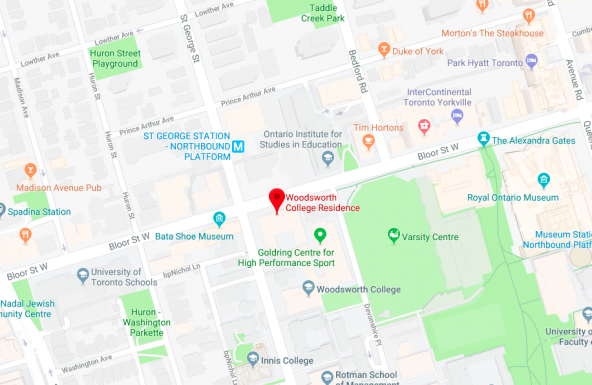 Our Location
Located at the key intersection of Bloor and St. George Streets, Woodsworth College Residence marks the northern gateway to the University of Toronto's downtown St. George campus. Nestled between Toronto's historic Annex and Yorkville neighbourhoods, the residence is just steps from world-class fitness facilities, libraries and museums, some of the city's best restaurants and a plethora of convenient amenities such as grocery stores and pharmacies. You will find getting around the city is a breeze, especially since we are located directly across the street from the St. George subway station. See our location on Google Maps to learn more about our neighbourhood.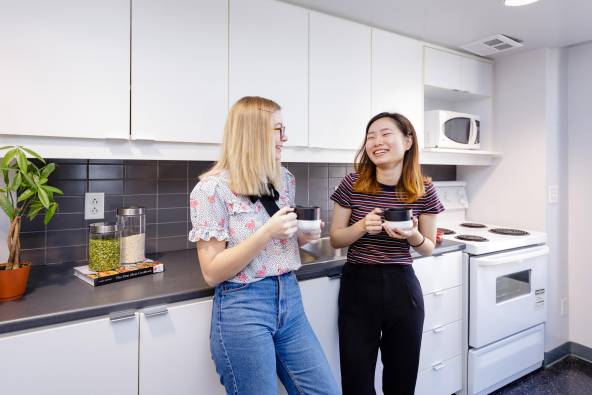 Our Accommodations
All residents live in private, single bedrooms within a shared, air-conditioned suite. Each suite includes four to six private bedrooms, a full kitchen (including at least one of each: refrigerator, microwave and electric range), a living room, and two private washrooms. Visit our accommodations and amenities gallery for further information.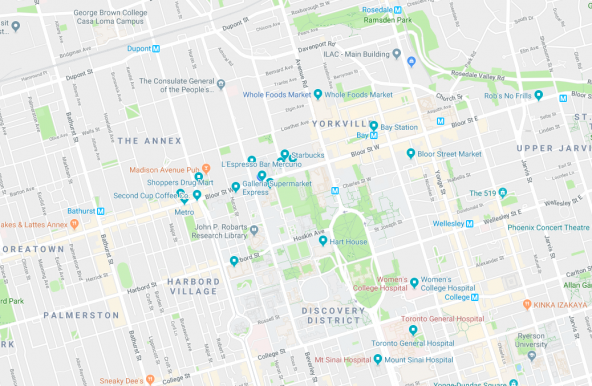 Our Neighbourhood
Our residence is centrally located to public transportation, grocery stores, malls, restaurants, and coffee shops! You can find some of the popular destinations for our residents on this map.