Two amazing ceremonies were held in person for the first time in two years!
For the first time in two years, convocation ceremonies were once again held in-person in U of T's Convocation Hall. Woodsworth College had over 700 students eligible to graduate this past June. 
Woodsworth College's morning ceremony featured the presentation of an honourary doctorate to Jim Cuddy, Canadian singer-songwriter and founding member of Blue Rodeo. The convocation speaker for the afternoon ceremony was Nancy McCain, Woodsworth College donor, and chair of the Toronto Foundation.  Both gave inspirational speeches, with Jim Cuddy also regaling assembled guests and graduands with a rendition of his song Good News (released in 2020).
The College held a festive reception in the Peter F. Bronfman Courtyard for graduands, their families, and friends.  It was a jubilant event with perfect weather for the occasion.
Students had countless stories to tell: from their entry as undergraduate students at Woodsworth College to navigating their academic journies through the ups and downs of Covid-19, and finally, to their graduation.  So congratulations to all! 
See the photos from the day below.  
Read about recent grads Matida Daffeh, Talia Williams and Rachel Williams, and Setareh Malekian who all exemplify the College motto: Propositi Tenax - tenacious of purpose!
See all the photos from the ceremonies and the reception here.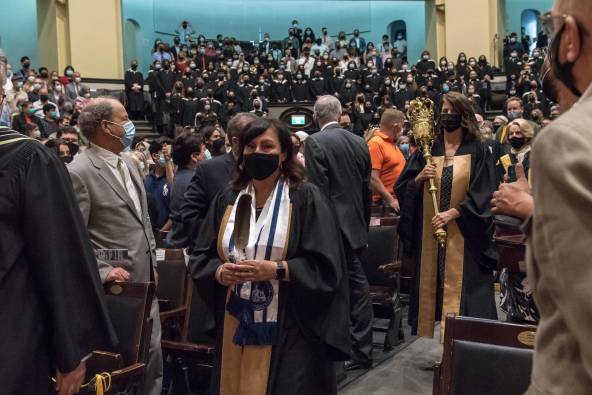 Eagle Feather Bearer
Lisa Boivin served as our Eagle Feather Bearer, a new ceremonial role that grew out of the recommendations of the university's Convocation Review.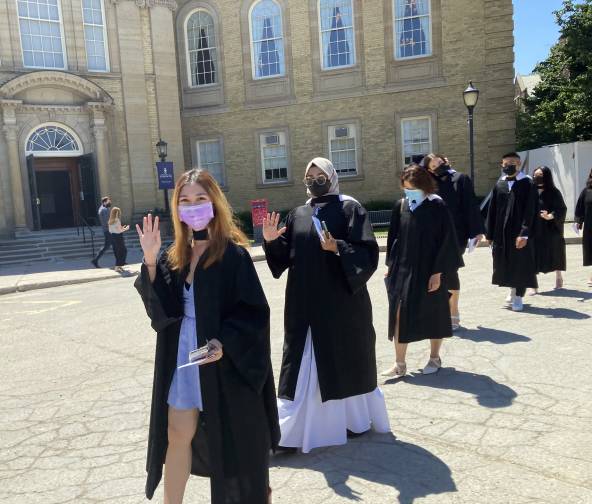 Convocating Students
Although masks were still required, everyone was happy to be able to attend the ceremony in person again.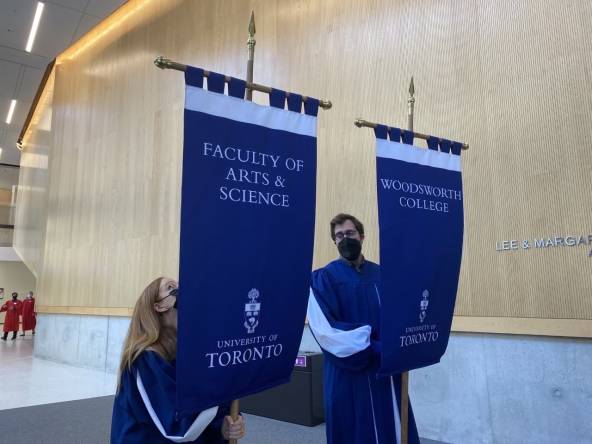 Gonfalon Bearers
Gonfalon bearers for the afternoon ceremony were Jason Brennan, Assistant to the Dean, Residence Life, Woodsworth College; and Lauren Vollmer, Associate Director, Academic Integrity & Petitions, Faculty of Arts & Science.
College News
Alumni Opportunity: Get Involved in Governing Council
Are you an alumni member committed to the mission of Canada's leading institution of learning, discovery, and knowledge creation? Are you looking for a way to make a significant volunteer contribution to the University of Toronto? Read about two distinguished volunteer opportunities available with the U of T Governing Council.