Annual Morley Gunderson Lecture 2018
Joined by Cornell University Professor, Dr. Francine Blau
The Annual Morley Gunderson Lecture, hosted by the Centre for Industrial Relations & Human Resources (CIRHR), the Department of Economics, and Woodsworth College, was held this past Friday on November 16th. This lecture series is named after Professor Morley Gunderson in honour of his contributions to Canadian labour economics and industrial relations over the past five decades.
The lecture began with the presentation of the Morley Gunderson Prize to Rodney C. Cook. Rodney is recognized for his service to the Centre of Industrial Relations & Human Resources and his accomplishments as Vice President, Workplace Health and Safety Services at Ontario's Workplace Safety and Insurance Board (WSIB).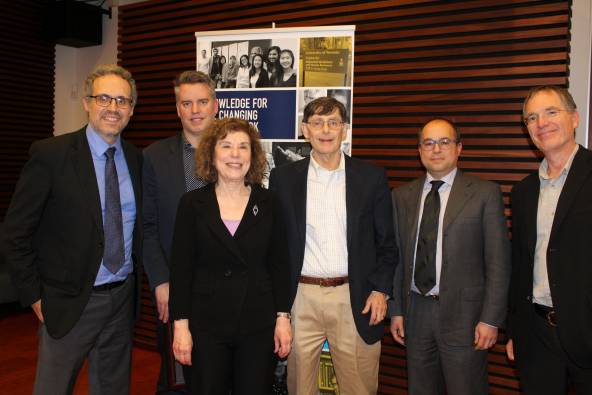 Dr. Francine Blau, Frances Perkins Professor of Industrial and Labour Relations and Professor of Economics at Cornell University, was this year's speaker. The topic, "What Do We Really Know about the Gender Wage Gap?", was of interest to many and the seats of Kruger Hall Commons filled up quickly with students, faculty, and members of the public. The lecture concluded with a short Q&A session.
A great thank you goes to everyone who attended this lecture, with a special thank you to Professor Gunderson, Professor Blau, the CIRHR, and the Department of Economics.
For more information, please visit the following links:
Annual Morley Gunderson Lecture and Prize 
[Top photo, L-R: Morley Gunderson, Rodney Cook, Rafael Gomez]
[Bottom photo, L-R: Rafael Gomez, Rodney Cook, Francine Blau, Lawrence Khan, Ettore Damiano, Joe Desloges]
Related News
Join the Alumni-Students Mentorship Program!
Applications are now open for the 2019-2020 Alumni-Students Mentorship Program! Read more about the program & how you can become a mentee or mentor.