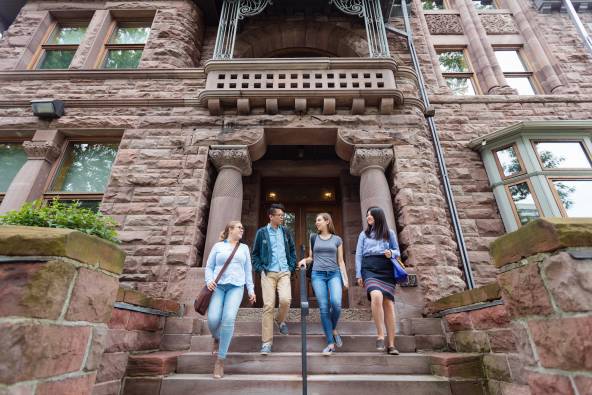 Woodsworth One has two streams, both of which take an interdisciplinary approach to their topics, drawing on a wide range of Social Sciences and Humanities perspectives. The Order and Disorder stream focuses on the role of laws, values, government policies, trade, and innovation in creating and disrupting both social and global order. The Popular Culture Today stream examines the products of the entertainment industry and the social behaviours associated with their consumption, exploring how popular culture works and what it means.
Students take two half-credit seminars – one in each term – and participate in regular co-curricular activities that build students' sense of community within Woodsworth College and across the University of Toronto as a whole. Seminars are capped at 30 students to maximize opportunities for participation and to promote close contact with both the instructor and fellow students. The emphasis is on class discussion and problem-based learning. Students participate in role-playing games, simulations, debates and more. The co-curricular activities include field trips, film screenings, guest speakers, writing and research workshops, and test-taking seminars.
The Woodsworth One team is dedicated to supporting students' transition to university life, and to guiding their academic planning. In addition to the Program Coordinator, course instructors, and teaching assistants, the team includes the College Writing Centre, the College Learning Strategist, a dedicated Registrar, a program administrator, and student mentors.  Each member of the team seeks to create a strong sense of community and to set students up for academic success. 
Woodsworth One offers students:
Small classes, but a big community and a direct connection to the professor
Interactive learning experiences, field trips, and guest speakers
Networking & advising for future academic and career paths
Workshops to build academic skills: test-taking, time management, essay-writing, and more
Lots of support: upper year mentors, and support staff dedicated to aiding the transition to university
Who can take Woodsworth ONE?
Woodsworth One is geared towards first-year students enrolled in Social Sciences and Humanities within the Faculty of Arts and Sciences.  In keeping with Woodworth College's tradition of open access, there is no incoming grade requirement. 
Students enrolled in highly structured programs (for example, Commerce or Sciences) will unlikely be able to enrol in Woodsworth One due to scheduling conflicts as students must enrol in both courses offered in either Woodsworth One stream.  

Two students tell us why Woodsworth One was "the one" for them. Read their stories here.
What courses do I need to take?
Students can only participate in one stream.
Order and Disorder Stream
You must take WDW151H1 (Fall term) and WDW152H1 (Winter term)
Popular Culture Stream
You must take WDW153H1 (Fall term) and WDW154H1 (Winter term)
How do I register for  Woodsworth One?
Registration in Woodsworth One is done via ACORN.   For course enrolment instructions please visit the Faculty of Arts and Science website. 
Woodsworth One Streams
Order and Disorder
Students in this stream are required to take two half-credit courses (one in the fall term, one in the winter term). This counts as one total credit toward their undergraduate degree.
WDW151H1 – Order and Disorder I: Issues and Perspectives - Hours: 16T/24S
Societies require law and order, but at what point does order become oppression? How do we balance our need for freedom and society's need for order? This interdisciplinary seminar allows students to explore these and related questions through selected readings introducing theories from sociology, political science, philosophy, and history. Restricted to first-year students. Not eligible for CR/NCR option.
Prerequisite: Admission to Woodsworth One
Exclusion: Any One program offered by another College, WDW153H1, WDW154H1
Distribution Requirements: Social Science
Breadth Requirements: Society and its Institutions (3)
WDW152H1 – Order and Disorder II:   Problems and Solutions - Hours: 16T/24S
Building on the questions and theoretical perspectives discussed in WDW151H1, this interdisciplinary seminar introduces students to some of the methods used by scholars and researchers in sociology, political science, philosophy, and history to develop, test, and debate possible solutions to the problems of social order and disorder. Restricted to first-year students. Not eligible for CR/NCR option.
Prerequisite: WDW151H1 or permission of the Woodsworth One Program Coordinator
Exclusion:  Any One program offered by another College,  WDW153H1, WDW154H1
Distribution Requirements: Social Science
Breadth Requirements: Society and its Institutions (3)
Students in the O&D stream are encouraged to take at least one of the following courses:
POL 101Y1 (Full-Year Course) – Democracy, Dictatorship, War, and Peace: An Introduction
PHL100Y1 (Full-Year Course) – Introduction to Philosophy
SOC100H1 (Half Credit Course – Fall) – Introduction to Sociology and/or SOC150H1 (Half Credit Course – Winter) – Sociological Inquiries
Any 100-level HIS course
 
The  WDW151H1 and 152H1 course material overlaps with many other Social Science disciplines. Students in our program are likely interested in the following areas of study: 

Criminology & Sociolegal Studies
Political Science
Sociology
History
Philosophy
Ethics, Society & Law
Industrial Relations & Human Resources
International Relations
Peace, Justice, and Conflict Studies
Equity Studies
Economics
Psychology
Popular Culture Today
WDW153H1 Popular Culture Today I:  Issues and Perspectives - Hours: 16T/24S
Popular culture, which might best be defined as culture about everyone, by everyone, and for everyone, is an increasingly important part of life. This interdisciplinary seminar examines from multiple perspectives its impact as art movement, agent of social change, and universal language of the digital age. Restricted to first-year students. Not eligible for CR/NCR option.
Prerequisite: Admission to the Woodsworth One Program.
Exclusion: Any One program offered by another College,  WDW151H1, WDW152H1

Distribution Requirements: Humanities
Breadth Requirements: Creative and Cultural Representations (1)
WDW154H1 Popular Culture Today II:  Special Topics - Hours: 16T/24S
Building on the general introduction to the subject provided by WDW153H1, this interdisciplinary seminar examines one major area of popular culture in greater depth: popular music, genre fiction, online culture, etc. The focus will be different each year, and in some years more than one option may be available. Restricted to first-year students. Not eligible for CR/NCR option.
Prerequisite: WDW153H1 or permission of the Woodsworth One Program Coordinator
Exclusion: Any One program offered by another College,  WDW151H1, WDW152H1 
Distribution Requirements: Humanities
Breadth Requirements: Creative and Cultural Representations (1)