Read about Woodsworth College student Andrea Johns on U of T News!
Andrea was one of two recipients of the President's Award for the Outstanding Indigenous Student of the Year.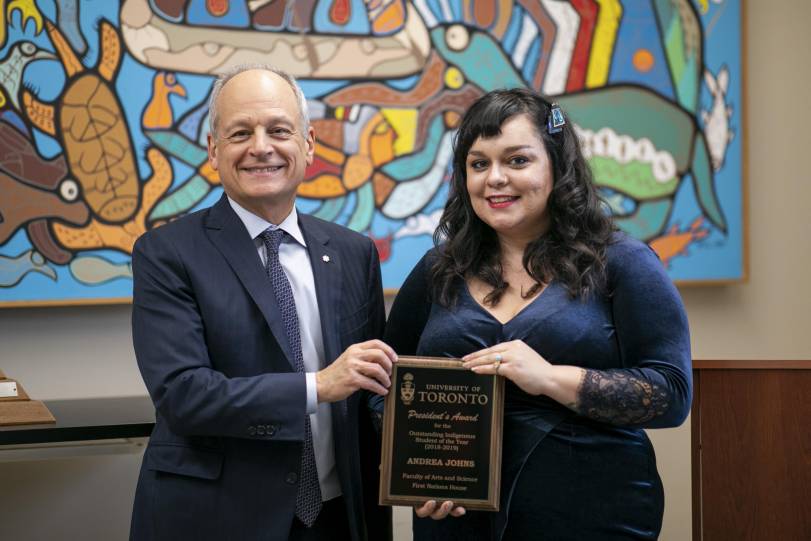 Andrea Johns began her journey at the University of Toronto in 2015 as a mature student through the Millie Rotman Shime Academic Bridging Program at Woodsworth College. Back then, she was not sure whether she had what it takes to attain a degree, saying that "everything seemed overwhelming and inaccessible to people like me who grew up in poverty, people with mental health issues, people with little to no support, people who are Indigenous."
Today, Andrea is a fourth year undergraduate student specializing in Indigenous Studies and double minoring in Book & Media Studies, and Creative Expression & Society. She is involved with the First Nations House and the Centre for Indigenous Studies at U of T, and has also set up U of T's Indigenous Languages Club. Moreover, Andrea participated in a three-month research placement at Ngā Pae o te Māramatanga, New Zealand's Māori Centre of Research Excellence, where she completed a research project about Indigenous tattoo revitalization and its connection to cultural preservation. Her advocacy for Indigenous language revitalization and her contributions to her community are recognized with the President's Award for the Outstanding Indigenous Student of the Year. The award recognizes Indigenous students whose accomplishments transcend coursework and grades, and who demonstrate a commitment to giving back to their communities. The award was presented by U of T President Meric Gertler at the First Nations House.
You can read more about Andrea's accomplishments and the ceremony in an article published by U of T News by writer Rahul Kalvapalle. Congratulations, Andrea!
Related News
Consider giving to the University of Toronto Covid-19 funds: the Toronto COVID-19 Action Fund and the COVID-19 Emergency Student Bursary Fund, or Woodsworth College bursaries and scholarships.