Meet this Year's Brookfield Bronfman Scholarship Recipients!
The Brookfield Bronfman Gold and Leadership Scholarships are awarded to Woodsworth College students in their final year of study who have demonstrated leadership qualities, community involvement, and high academic achievement.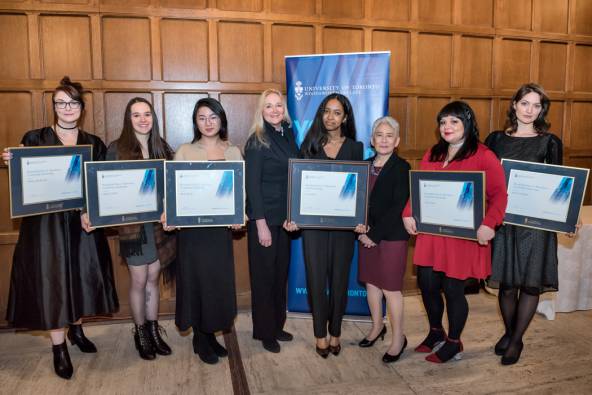 The certificates were presented at the Woodsworth College Annual Awards Dinner on February 6, 2020 by Lynda Hamilton, widow of Peter F. Bronfman and longtime supporter of the scholarship program.
Continue reading to learn more about this year's six outstanding recipients, their academic achievements, contributions to their community, and their plans for the future.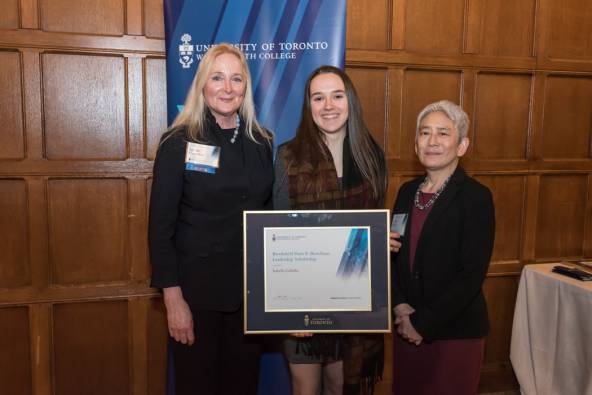 Isabella Gallello, Leadership Scholarship
Throughout her undergraduate degree, Bella has taken on a variety of roles in the Woodsworth and U of T community. Currently, she is a Don at Woodsworth Residence, a research assistant in the Visual Cognition Lab, and an undergraduate research assistant in a lab at Sick Kids Hospital. She is a volunteer note taker, and a peer buddy and leadership team member of the University's Best Buddies Canada chapter. She was also a member of the Varsity Wrestling Team. Bella is planning on graduating in June 2020 with a double major in Molecular Genetics & Microbiology, and Neuroscience, with a minor in Psychology.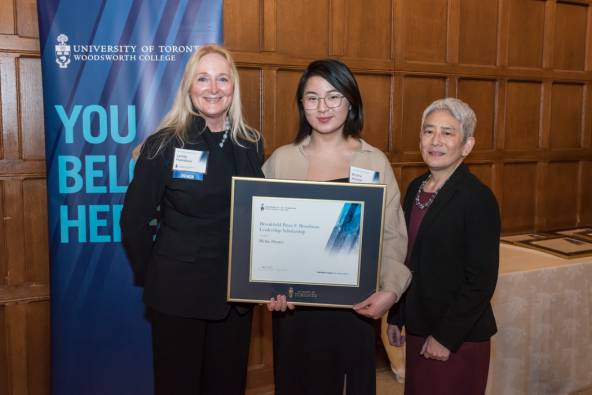 Blythe Hunter, Leadership Scholarship
During her time at U of T, Blythe has held a number of roles at the Varsity, including Podcast Editor, Staff Writer, and Senior Copy Editor, along with Creative Editor of the UC Review. She has worked and volunteered at The Career Foundation in Mississauga, an organization that helps individuals find employment. In her role, she has been responsible for assisting young people find job opportunities and helping them to improve their job seeking skills, while also writing articles for the organization's blog and working on their social media platforms. She has also had articles published in Maclean's and Flare magazines. Blythe plans to graduate in June 2020 with a major in Book & Media Studies, and minors in Cinema Studies, and Creative Expression & society. She intends to continue working in media and make experimental films.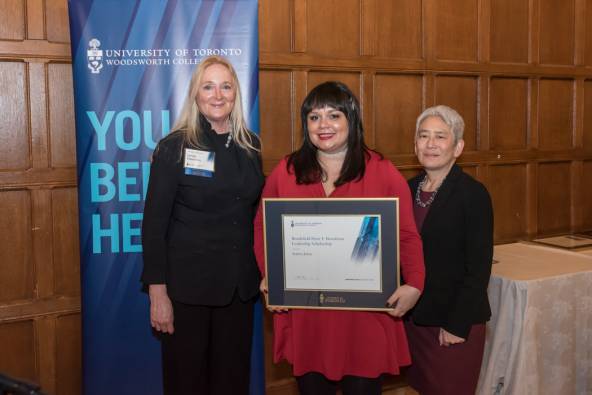 Andrea Johns, Leadership Scholarship
A graduate of the Millie Rotman Shime Academic Bridging Program, Andrea is pursuing a specialist in Indigenous Studies with minors in Book & Media Studies, and Creative Expression & Society. She is the founder of the Indigenous Languages Club on campus, and has coordinated a weekly Indigenous Study Hub as a way to build community. She has also volunteered at the First Nations House as a blogger, covering various events and activities both on and of campus. In 2019, Andrea received the Queen Elizabeth Diamond Jubilee Scholarship and traveled to New Zealand to begin her research on Indigenous tattooing practices. Andrea is planning to graduate in November 2020, and hopes to work within the urban Indigenous community as a language instructor or professor of Indigenous Studies.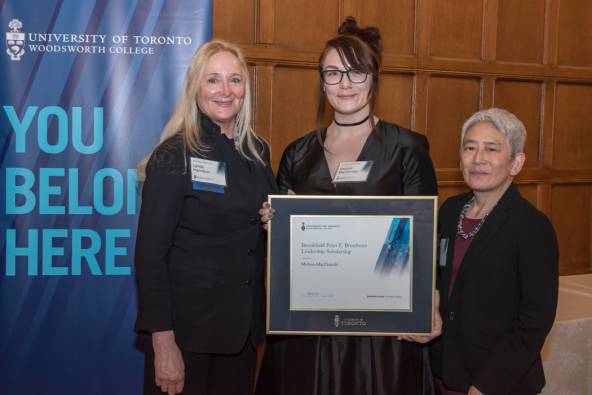 Melissa MacDonald, Leadership Scholarship
Melissa came to U of T through the Millie Rotman Shime Academic Bridging Program, and is now pursuing a degree with majors in Political Science, and Equity Studies. Melissa values mentorship and has been actively involved in a number of mentorship programs at U of T. She believes it is important to give back and help her peers so that they can feel supported and encourage in the same way that she has. Melissa is the first in her family to attend university and is planning to graduate in June 2020. She hopes to obtain a Master's in Public Policy and Administration.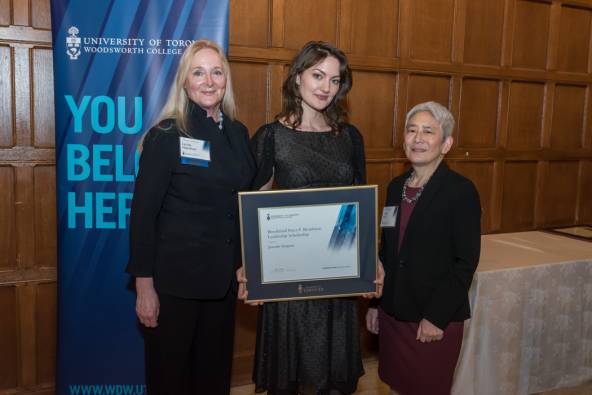 Jennifer Simpson, Leadership Scholarship
Jennifer is a graduate of the Millie Rotman Shime Academic Bridging Program and is now studying Criminology, and Sociology. When not at school, Jennifer is an executive assistant and business writer for a company that specializes in providing insight for medical and smart building spaces. She was a mental health counselor at a centre for men who had incarcerated and struggled with mental health issues, and continues to provide volunteer counselling to residents. She is also the lead singer and songwriter for a band, Neon Bloom, and also does stand up. Jennifer is planning to graduate in June 2020 and intends on conducting graduate work where she can assist individuals who occupy vulnerable, marginalized positions within our society.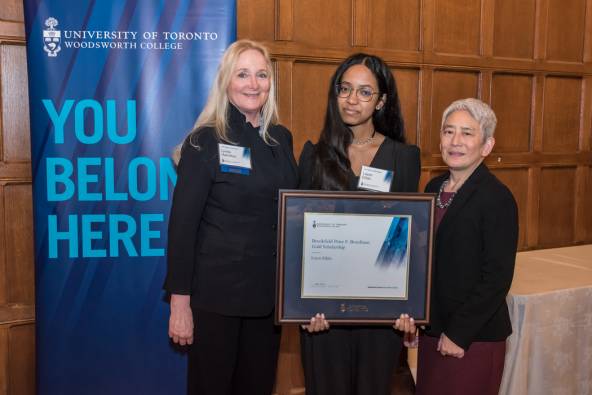 Layan Elfaki, Gold Scholarship
In her undergraduate career, Layan has dedicated her time to a number of initiatives on campus and in the community. To start, Layan has volunteered with Healthy Minds U of T to form a social support group and raise mental health awareness on campus. She created a resource booklet that is distributed to incoming students which outlines mental resources that are available to them. Additionally, she joined the Psychology Students' Association as the social co-ordinator to actively contribute to creating enjoyable and comfortable spaces for students.Currently acting as the group's Communications Director, Layan is the co-founder of 'Step into STEM', a recognized U of T initiative that tackles inequitable access to resources by underrepresented minority students. Through the Visions of Science Network for Learning, she runs science related modules for low income and marginalized youth to stimulate interest and encourage pursuit of STEM related career fields. She has been a peer mentor at U of T, and has mentored high school students to aid their transition into STEM university programs. Layan plans to graduate in June 2020 with majors in Psychology, and Human Biology-Health and Disease, and intends to attend graduate school to study neuroscience with a goal to attend medical school to specialize in neuroscience.
All photos by Lisa Sakulenksy
Related News
Consider giving to the University of Toronto Covid-19 funds: the Toronto COVID-19 Action Fund and the COVID-19 Emergency Student Bursary Fund, or Woodsworth College bursaries and scholarships.