Former Principal Joseph Desloges receives Vivek Goel Faculty Citizenship Award
Two Arts & Science faculty receive Vivek Goel Faculty Citizenship Awards for their invaluable leadership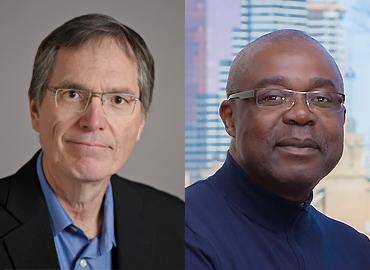 Vivek Goel Faculty Citizenship Awards have been bestowed on Joseph Desloges, a professor in the Departments of Earth Sciences and Geography & Planning, and Dickson Eyoh, an associate professor in the Department of Political Science and acting principal of New College.
Presented to senior faculty members in recognition of their invaluable contributions to U of T in various leadership roles, the award was created in 2008 in honour of Vivek Goel's many contributions to the University, most recently as Vice-President and Provost. The honour is one of the Awards of Excellence presented by the University of Toronto Alumni Association in collaboration with the University.
Read more about the two recipients in the article on Faculty of Arts & Science website here. 
College News
Convocation 2023: Meet Omer Malikyar
Once a teenage refugee, Woodsworth College graduating student, Omer Malikyar, is now a powerful voice for the world's displaced