Brookfield Peter F. Bronfman Scholarship Recipients
The Brookfield Bronfman Gold and Leadership Scholarships are awarded to Woodsworth College students in their final year of study who have demonstrated leadership qualities, community involvement, and high academic achievement. Congratulations to this year's recipients for all they have achieved during their time at U of T! 
Meet this year's recipients below.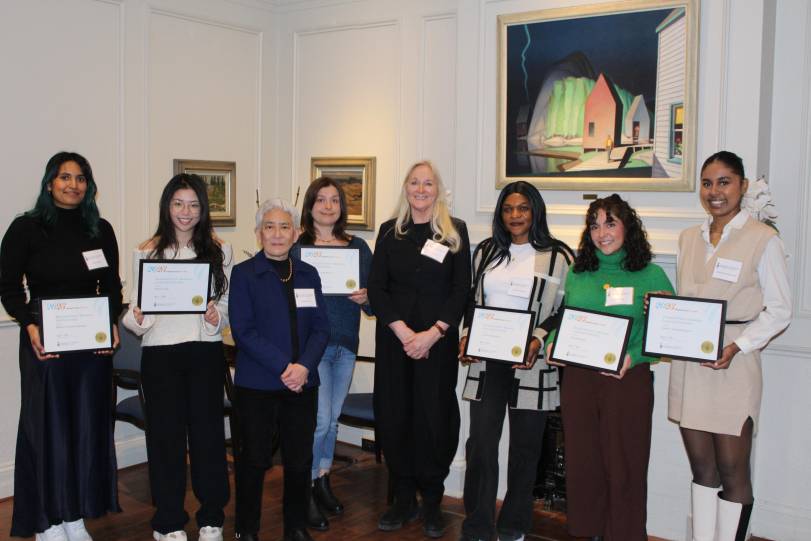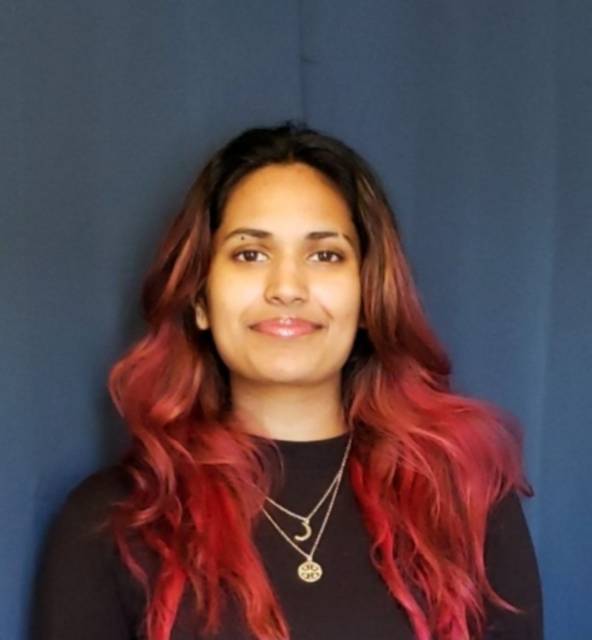 Kethmi Egodage
Education: Specialist, Psychology Research and Major, Criminology
Future plans: PhD in Clinical Psychology
Kethmi is a Psychology Research specialist and a Criminology major at U of T. Since her presidency of the Woodsworth Racialized Students' Collective, she has been dedicated to addressing systemic issues of equity and diversity. During her time at U of T she has worked as a researcher for the University of Toronto's Innovation Hub, helping students navigate the pandemic by fostering connectedness and advocating for student-centered initiatives.
Her passion for social justice and advocacy motivated her to work for the Beyond Bullying Project, empowering BIPOC and LGBTQ students in high schools to share their experiences with policy makers and researchers. Inspired by her work there, she went on to join another research-based project, 4 the Record, where she helps provide platforms to LGBTQ2IA+ women and non-binary folx to share stories about their experiences with risk, sexuality, and COVID-19.
During her last year at the university, she and her cohort of Psychology Research Specialists have worked to establish an undergraduate research grant, aimed at funding student researchers pursuing replication studies, as a step towards furthering the open science movement and addressing issues of metascience found within psychology.
After graduating, Kethmi plans to pursue a graduate degree in Psychology.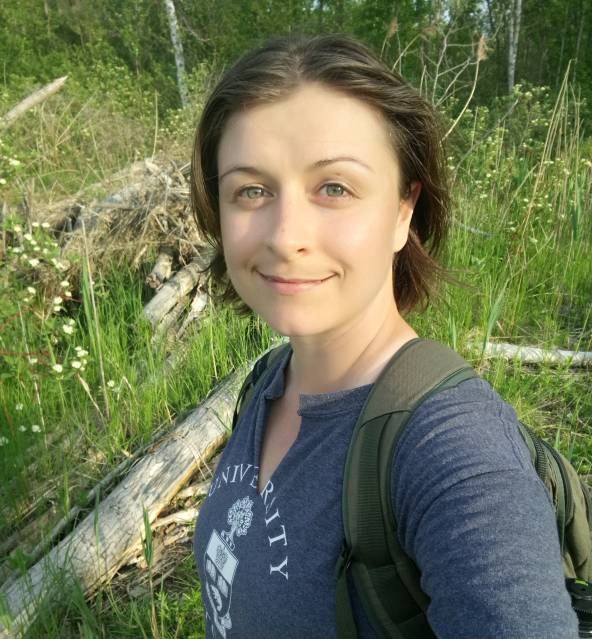 Malia Robinson
Education: Major, Women and Gender Studies, and Minor in Buddhism, Psychology & Mental Health, Contemporary Asian and Latin American Studies
Future plans: Masters in Social Work with a speciality in Indigenous Trauma and Resiliency
Malia enrolled in U of T's Transitional Year Program as a mature student, and went on to major in Women & Gender Studies and minor in Latin American Studies, Contemporary Asian Studies, and Buddhism, Psychology and Mental Health. Within these disciplines, she explored the social, emotional, and physiological impacts of intergenerational trauma and learned everything she could about healing trauma on an individual and societal level.
Over the course of her studies, Malia had the opportunity to participate in U of T's Centre for Engaged Learning Abroad Program where she explored issues pertaining to indigeneity and food sovereignty in Belize, and U of T's Community Engaged Learning Program where she volunteered with the Center for Wise Practices in Indigenous Health to help research and write a proposal to build an Indigenous medicine garden at Women's College Hospital.
After completing her undergraduate studies, Malia will pursue a Master of Social Work, and then train in Eye Movement Desensitization and Reprocessing Therapy (EMDR), Tension & Trauma Releasing Exercises (TRE), and Mindfulness-Based Stress Reduction (MBSR) to help people resolve their complex trauma issues and reconnect to their body's inherent capacity for restorative sleep, health, and wellness.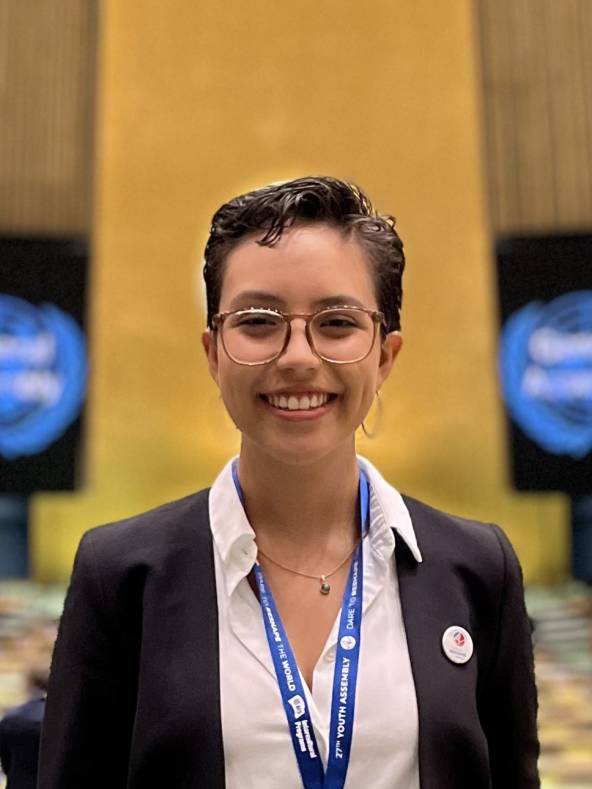 Andrea Maria Caceres
Education: Double Major, Human Geography and Diaspora and Transnational Studies
Future plans: MA in Public Policy
Andrea is a 4th year undergraduate student at the University of Toronto doing a double major in human geography and diasporas and transnational studies. Andrea draws her own experiences on community relations and social impact to represent the Latinx community in spaces of decision making. As an alumna from the Munk One Program, from the Munk School of Global Affairs and Public Policy and Winner of the Munk One Dragon's Den Competition (2019-2020), the global policy landscape has always sparked Andrea's interest to engage with communities and create solutions to reduce inequalities.
In 2020, Andrea co-founded her non-profit organization, The AWA project, and has been part of different international conferences such as the World Bank Youth summit and the UN Youth Assembly to create awareness on water scarcity. In 2021, AWA implemented fog harvesting technology in the community of Ihuanco as a new autonomous source to increase water access in the community. Additionally, she is a Researcher at The Reach Alliance, with a published report on the sustainability of artisanal micro family businesses in the region of Tequila, Mexico. In 2021, Andrea received the Diploma of Bicentennial Youth Leader by the Congress of The Republic of Peru, reinforcing her commitment towards solidarity and public service for hardest to reach populations in Latin America. After graduating, Andrea plans to continue her studies by doing a master's in Public Policy.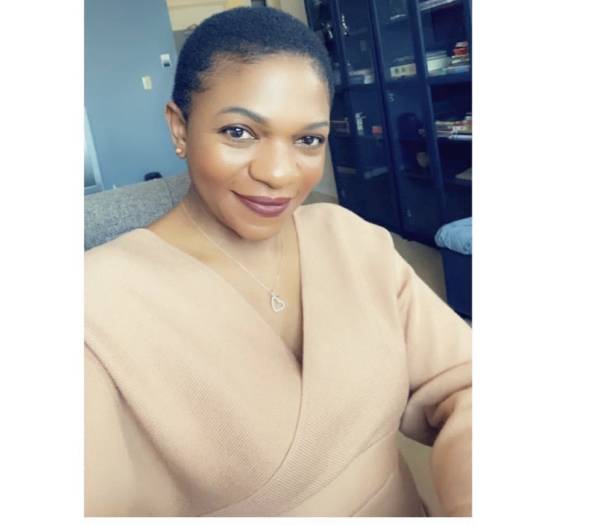 Catherine Kyakuhaire
Education: Double Major, Equity Studies and Women and Gender Studies
Future plans: Social Work or Counselling in the Mental Health field
Catherine is completing a double major in Critical Studies in Equity and Solidarity, and Women and Gender Studies. She joined U of T through the Transitional Year Program. She serves as a mentor, and as the Senior Volunteer Coordinator at the University of Toronto African Alumni Association (UTAAA). She also serves as a member of the Advisory Committee at the Women Empowering Positive Women (WEPW), a non-profit organization helping women living with HIV achieve financial independence through making and selling craft work.
Catherine is very passionate about mental health issues and an advocate for greater care, support, and awareness of mental health illness. She is also interested in homelessness and single motherhood issues. Catherine's career goal is to continue to advocate and fight for the rights and well-being of people living with mental illness. She hopes to further her graduate studies in mental health in the area of counselling and psychotherapy, and plans to become a psychotherapist.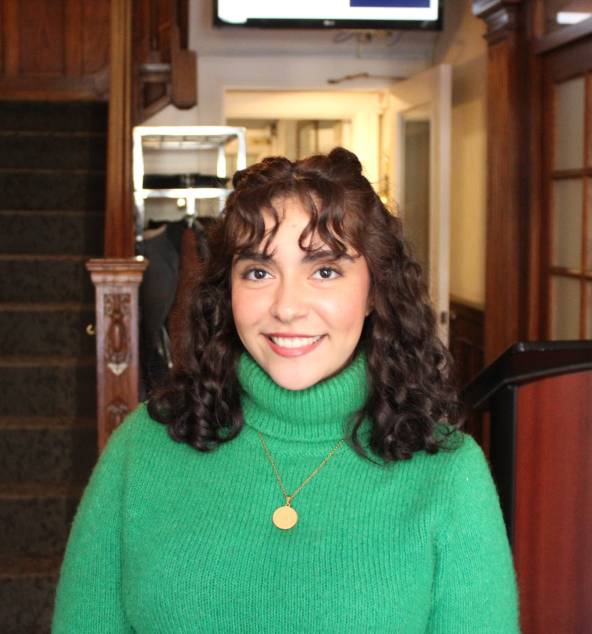 Fatemeh Nami
Education: Double Major, Economics and Ethics, Society & Law 
Fatemeh is completing her Honours B.A. with a double major in Economics and Ethics, Society, & Law. In her time at the University, she has served as a two-term President at the Arts & Sciences Students' Union, Editor-in-Chief at the Arbor Journal of Undergraduate Research, and a conference organizer at the North American Model United Nations.
In line with her diverse academic interests, Fatemeh has worked on a wide range of research projects on campus. In her second year, she was selected as 1 of 6 students from the tri-campus to evaluate the University's Low-Carbon Action Plan under the leadership of Nobel Laureate Dr. Brad Bass. She has also worked as a Research and Policy Intern at the Canadian Centre for the Responsibility to Protect, where she researched the applications of the international legal doctrine of R2P in Syria. She is most proud of co-authoring the first digital database on contemporary Arab women writers with her trusted mentor, Professor Maria Assif.
Outside the university, Fatemeh has canvassed for the successful re-election of her local MPP and worked as a non-partisan get-out-the-vote campaigner at the National Council of Canadian Muslims. Fatemeh is a Dean's List Scholar, a Jackman Scholar, and a recipient of the University of Toronto Student Leadership Award.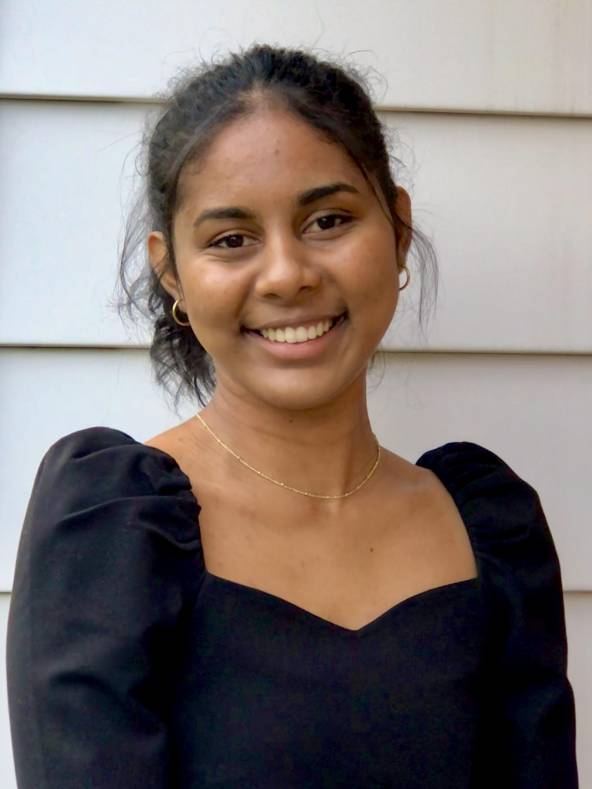 Subesica Vasanthakumaran
Education: Double Major, Human Biology and Nutritional Studies
Future plans: A career in Optometry
Subesica is a Human Biology and Nutritional Sciences major. She is working towards her goal of becoming an optometrist. As such, she has contributed to the U of T community by founding an optometry-based student group called BLINKS U of T. She hopes to educate students about ocular health and foster a community that enjoys learning about the eyes! In the Woodsworth community, Subesica was a head leader during orientation, and she is the Professional Development Director at WCSA. She is also a member of WCSA's social committee. In addition to her involvement in the U of T community, Subesica volunteers at the Bendale Acres long-term care home where she provides weekly support to residents with dementia and organizes social activities for them. After graduation, Subesica will pursue a degree in optometry and hopes to continue her contributions to her local community as well as the U of T community!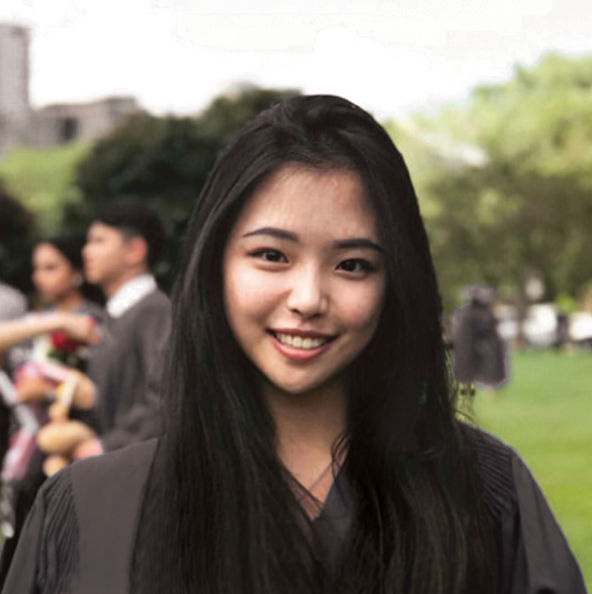 Bonnie (Sha) Yang
Education: Specialist, Pathobiology and Minor, Immunology
Future plans: Masters, Laboratory Medicine and Pathobiology and then Medicine
As a pathobiology specialist, Bonnie's research centers around fetal lung development and cystic fibrosis. She is proud to be able to balance academics and extracurriculars during her time at U of T. Bonnie is very involved both within campus and the greater community outside of U of T.
Bonnie has been a member of the Woodsworth College Student Association board, first as Professional Development Director and then as Upper Years Director. She is also the Co-president of the Laboratory Medicine and Pathobiology (LMP) Student Union where she actively voices student concerns and works closely with professors and administrators to improve the LMP undergraduate curriculum. Bonnie is enthusiastic about giving back to her community. As the Chief Instructional Officer of the University of Toronto First Aid Society and a Red Cross first aid instructor, Bonnie organizes and teaches CPR courses to raise money for charity donations. Over the past five years, her team has certified over 1000 students and donated $46,480 to charity. After graduating, Bonnie plans to pursue a master's degree in Pathobiology.
College News
Inaugural Woodsworth College Alumni Panel Event!
On Thursday, March 2, the Woodsworth College Students' Association (WCSA) hosted the Woodsworth College Alumni Panel in partnership with the Woodsworth College Alumni Association (WCAA). During this event, they welcomed four alumni panelists to share their career journeys with our students.